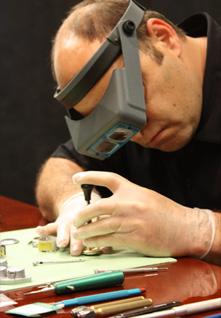 Master Watch Repair
At Master Watch Repair we specialize in Rolex watch repairs with free estimates, free outgoing shipping, fast turn around time, computerized water testing, and up to 3 years warranty on overhauls that we have performed.
To see more information about Rolex watch repair, please Click Here.

ROLEX DATEJUST SERVICE SPECIAL: $295.00 for complete overhaul which Includes: new sapphire synthetic crystal, disassemble movement, cleaned in ultrasonic cleaning machine, new main spring, new back gasket, new case tube gasket,  re-oiling, timing, adjustment to working condition and a pressurizing if it is acceptable. Other additional parts will be at an extra cost if needed.
To see more pricing information, please Click Here.